In its 60th year the Rose d'Or is recognising one of the most important broadcast genres, launching a dedicated News & Current Affairs Award.
The award will be made for an exceptional individual programme, series or coverage of a specific news event. The award is intended to recognise every aspect of coverage including journalistic enterprise, quality of reporting and innovation in programme production.
The Rose d'Or and the European Broadcasting Union have brought together a jury of top news journalists, producers and executives from 20 countries to judge this inaugural award.
Liz Corbin, head of news, EBU, said: "While the past 18 months have been incredibly challenging for the news industry, they also represent some of our finest moments. The 'Best News & Current Affairs' category is a worthy and exciting addition to the Rose d'Or Awards – I can't wait to see the results."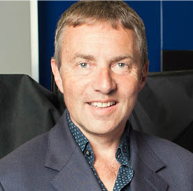 Mark Rowland, head of jury, Rose d'Or said: "It is a timely moment to introduce this to the Rose d'Or slate of Drama, Entertainment and Comedy for which the Awards were originally developed. News & Current Affairs sits alongside Documentary, the 2020 winner of which, Once Upon a Time in Iraq, also won our highest accolade, the Golden Rose. This opportunity is also there for a News & Current Affairs entry in 2021."
Entries are now open through rosedor.com